It's Time to File Your Annual Reports!
It's time to file your 2018 Annual Report! An annual report is a required report that is used to update or confirm the Florida Department of State, Division of Corporations' records. They are due each year between January 1st and May 1st for all:
Corporations
Limited liability companies
Limited partnerships
Limited liability limited partnerships
All annual reports must be filed online at www.sunbiz.org. This is necessary for your business entity to maintain an active status with the Department of State, and is required regardless of whether you need to make changes or not. It is easy, quick and secure! Sunbiz.org is the only official website of the Department of State, Division of Corporations, so make sure you are at the right place! Check for the official Sunbiz.org logo and header.
Click on Annual Report under Manage/Change Existing Business to complete your filing. Data displayed on the online annual report form is the most current data on file with the division. Please review your data carefully and make changes where necessary. Filing instructions are available on the Sunbiz website, and you may pay by credit card, check, or through a prepaid Sunbiz E-File Account.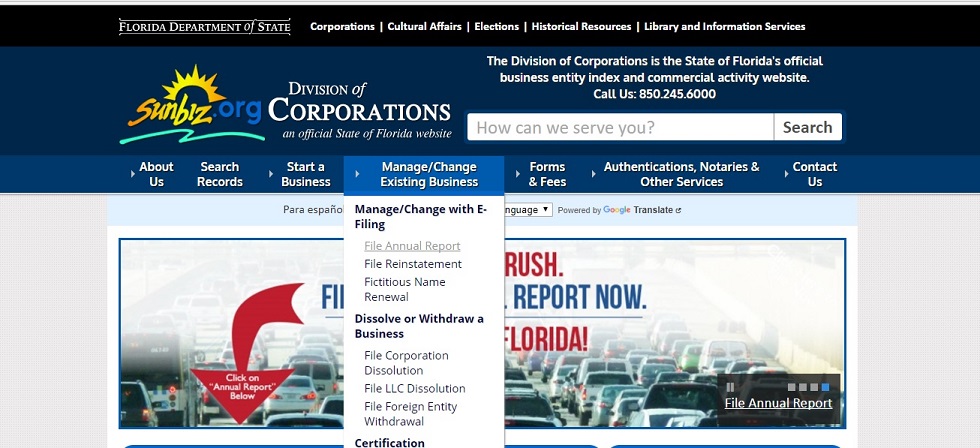 A $400 non-negotiable late fee will be imposed on any profit corporation, limited liability company, limited partnership, and limited liability limited partnership annual report filed after midnight Eastern Standard Time on May 1st. Any business entity which fails to file its annual report by the third Friday of September will be administratively dissolved or revoked on the fourth Friday in September. (Administratively dissolved or revoked entities may be reinstated by submitting a reinstatement application and paying all associated fees, which include the reinstatement fee and annual report fees due). Non-profit corporations are not subject to the $400 late fee.
Don't procrastinate and find yourself facing late fees! Sunbiz.org makes the process simple and user-friendly.